temp ink. designed by your life.
Your personal custom ink is a symbol of your story. We're so excited for you to be able to wear, and express it! Whether it is a  favorite quote, a special symbol or even a photograph, you can create your very own custom temporary tattoo in just three easy steps! Let's get you inked up, shall we?
"Hey, Nice Ink."

Safe/Non-Toxic
My Ink My Story Temp Ink has been rigorously tested as safe and non-toxic, made with FDA certified colorants. They exceed safety standards of the FDA for Cosmetics & Children's Toys, and surpass requirements of the EU & Canada. PPD free. Vegan. Never tested on animals. 

Made In The USA
Safety is of the utmost importance to us. There are some tattoo trends out there where companies are choosing to make their products in China to save money. Problem is, they don't have the same safety standards as the U.S.

They Look Real, Really.
They feel real too...meaning that you typically can't even feel the tattoo on your skin, just like real ink. You get the look of a real tattoo without those pesky needles. Ink lasts 2-5 days on average, up to 10 with careful application and wear. See FAQ.
CUSTOMERS INK ABOUT THEIR STORY. SHARE YOURS?
Join the My Ink My Story community and click HERE to share your ink and the story behind it!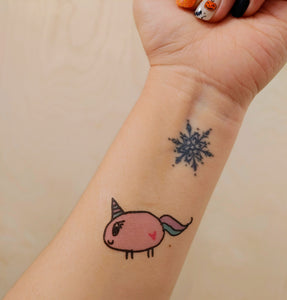 "She's Beauty, She's Grace, She's Burrito Unicorn. Around 2008ish My Niece Asked Me To Draw A Unicorn. I Have 0 Drawing Talent, But She Asked So I Complied. Thus Burrito Unicorn Was Born! I've Been Drawing Her Ever Since, And She's A Symbol For My Niece And I. Thank You My Ink. My Story; For Bringing This To Life Exactly How I Wanted. Can't Wait To Surprise My Niece!" ~WS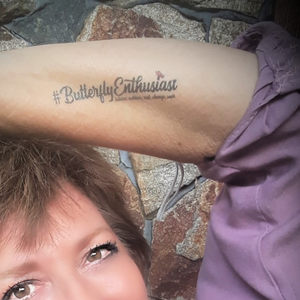 "Butterflies inspire us to believe, achieve, rest, change, and hope. What better way to celebrate than having my custom design from My Ink, My Story?" ~Tina VaLant
(Tina K VaLant is a lepidopterist. As a hobby, she raises/releases ten species of native butterflies in south Florida, for over two decades.)